12 Bottle Pack White's Elixirs Mint Julep Cocktail Mix 8oz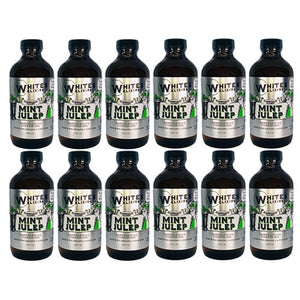 It's classically classy, as all fine derby cocktails should be.
Ensure you procure a proper whiskey or gin to be this julep mix's jockey.
It's not horsing around. Race to stores to buy it now. Get your taste buds to the finish line.

(We ran the derby metaphor into the ground, didn't we?)
((Yes. And we're proud of it.))
A smooth blend of mint leaves, mint oil, and pure cane sugar for a proper julep.
Comes with twelve 8oz Bottles!
Pack makes 72-96 Cocktails!
"Put it with a little crushed ice and some rye whiskey...heavenly." - Rob B, repeat customer.
Water, pure cane sugar, mint oil, fresh mint, citric acid. Does not contain alcohol.