White's Elixirs Mojito Cocktail Mix 750 mL Triple Pack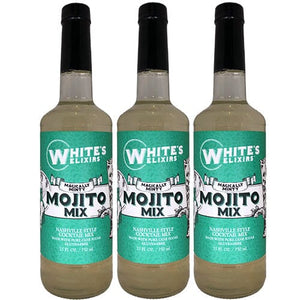 You are now in Key West. (At least, your taste buds are).
Combines zesty mint, fresh lime juice, and pure cane sugar to form a magically minty mojito cocktail. Just add your rum of choice.
Pack makes 36-60 Cocktails!
"NO more muddling. NO more hunting for mint and squeezing limes. This rocks." - Janine G, repeat customer.
Pure Cane Sugar, Lime Juice, Mint, Citric Acid, Water.  Does not contain alcohol.