White's Elixirs Moscow Mule Cocktail Mix 750 mL Triple Pack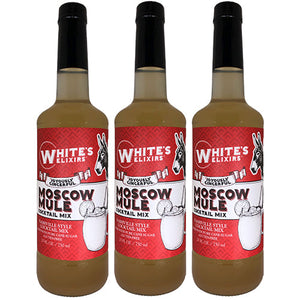 A gingery bite with a lime chaser. It's Mule time.
Moscow Mules have never been easier to make. Just add vodka or whiskey, soda and ice. Combines floral ginger root, zesty lime juice and smooth pure cane sugar to form a refreshing Moscow Mule Cocktail.
Pack makes 36-60 Cocktails!
"It's SO GINGERY! This is so refreshing, even if you don't have a copper mug!" - Erin F, repeat customer.
Water, Pure Cane Sugar, Ginger Root, Lime Juice, Organic Ginger Juice, Citric Acid. Does not contain alcohol.