Six Bottle Pack White's Elixirs Old Fashioned Cocktail Mix 8oz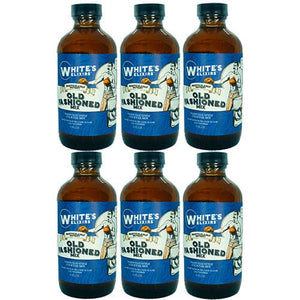 No fruit juice. No fake syrup. Just old school, no nonsense mix. Your whiskey will send you a thank you card. 
Made with pure cane sugar, spices and bitters, this classic Old Fashioned lets any whiskey lover craft the perfect old fashioned.

Comes with six 8oz Bottles!
Pack makes 36-48 Cocktails!
"Unreal. The truest Old Fashioned mix I've ever had in terms of sticking to the original recipe. This mix is all business, lol!" - Brian H, repeat customer.
Water, pure cane sugar, orange zest, aromatic bitters, orange bitters, orange oil extract, gentian root, citric acid. DOES NOT CONTAIN ALCOHOL.