White's Elixirs Old Fashioned Cocktail Mix 750 mL Double Pack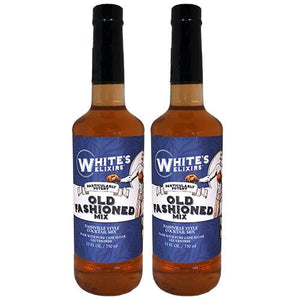 No fruit juice. No fake syrup. Just old school, no nonsense mix. Your whiskey will send you a thank you card. 
Made with pure cane sugar, spices and bitters, this classic Old Fashioned lets any whiskey lover craft the perfect old fashioned.
Pack makes 36-48 Cocktails!
"Unreal. The truest Old Fashioned mix I've ever had in terms of sticking to the original recipe. This mix is all business, lol!" - Brian H, repeat customer.
Water, pure cane sugar, orange zest, aromatic bitters, orange bitters, orange oil extract, gentian root, citric acid. DOES NOT CONTAIN ALCOHOL.