White's Elixirs Spicy Margarita Cocktail Mix 750 mL Double Pack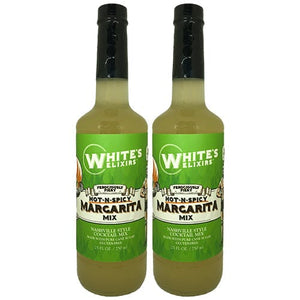 It's hot. No...Listen. It's really hot. (You were warned).
Blends fresh habanero peppers, zesty lime juice, and smooth pure cane sugar to form a tantalizingly mix for an epic margarita. Simply add your tequila or mezcal of choice.
Pack makes 24-36 Cocktails!
"Holy %&%&. The label is accurate. Best spicy margarita I've ever had." - Emily A, repeat customer.
Pure Cane Sugar, Habanero Peppers, Lime Juice, Citric Acid, Salt, Orange Oil, Water. Does not contain alcohol.